Best Hedging Plants for Privacy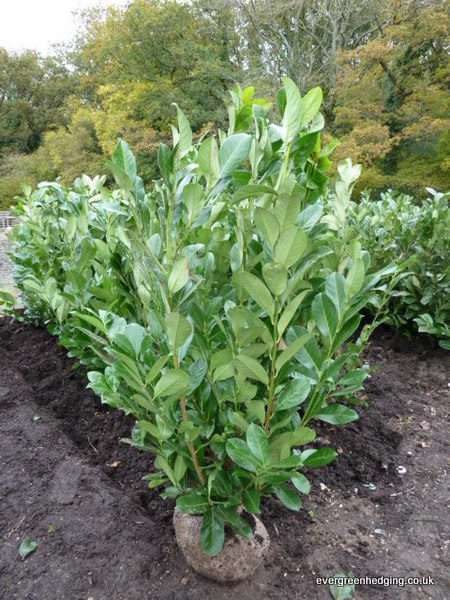 With the winter months quickly approaching, we'll all be spending more time in the comfort of our own homes, where we'll be seeking peaceful privacy and then eventually craving some summer lushness next year.
An evergreen hedge in your garden can provide you with year-round usefulness and privacy, filter out noise and pollution as well creating as a great habitat for nature. Pot-grown Evergreen hedging plants can be planted at any time during the year and rootballed plants can be planted in the winter and early spring, so there's no reason not to invest in one today!
Laurel is the fastest growing Evergreen hedging plant that isn't a conifer, which makes it an exceptional plant for rapid hedging and privacy use. It provides a thick, lush, dense, glossy, dark green hedge, which provides instant screening all year round, grows fast and suits many types of soil, except shallow chalky or very boggy soils. It can grow up to 60cm (2ft) a year which makes it ideal for planting in an area where permanent privacy or screening needs to be established quickly.  Laurel is one of the cheapest non-conifer hedging plants and suits shady spots, though it is also suitable for full sun, making it completely versatile.  It is tough and hardy and comes in a variety of sizes, making it ideal for instant hedging which you can buy in 4ft, 5ft and 6ft or taller plants, ready for the winter months of wanting privacy. They can be trimmed into formal box-shaped hedges or can be left to create a more natural hedge.  They should be trimmed annually, and can be cut back hard if overgrown, where they will regenerate from old wood.

 2.Leylandii (Green & Gold Leylandii)
Leylandii is our best seller, as it forms a conifer hedge faster than anything else! We sell two forms of Leylandii conifers, the traditional form and Leylandii 2001. Both forms produce a dense enduring hedge of any shape or size, if trimmed well from the start – we kept a leylandii hedge at 120cm (4ft) tall by 45cm (18″) wide for 25 years! As it belongs to the infamously fast-growing conifer family, Leylandii offers a rapid solution for a privacy hedge at a very reasonable price, while keeping its foliage all year round, which is ideal for autumn and winter months. If trimmed every year, they form a much denser screen, guaranteeing privacy for you and your family. It is the least expensive of the Evergreen hedging options and is perfect for you all wanting fast-growing hedging over 4ft. It is strong, wind tolerant and suitable for planting in most soils, except waterlogged. It is particularly suitable for areas of high traffic where its dense foliage filters out sound and pollution. Leylandii can be grown in full sun and partial shade, and pruned annually either once or twice a year to create and maintain a formal screen or box-shaped hedge. Leylandii is available with stunning green or golden foliage! The most popular golden varieties are 'Castlewellan Gold' and 'Excalibur Gold'.  While they are an ideal solution for low-cost hedging that can be kept at any height, do be aware that you need to maintain a reasonable height where they are near neighbours to avoid becoming a nuisance to others, but don't worry you'll still be able to maintain your own privacy.

Portugal Laurel is a gorgeous evergreen shrub that forms a dense hedge. It is easy to maintain and always looks neat and tidy. The leaves of Portuguese Laurel are a dark glossy green and are smaller in size to the large leaves of Cherry Laurel. It has red stems in winter that contrast well against the dark green leaves. Portugal Laurel is a flowering evergreen plant ideal for those wanting to keep a formal and tidy hedge. It provides year-round interest, with fragrant white flowers in spring. The leaves on a Portugal Laurel are much smaller and darker green than those on a Cherry Laurel and the hedge does not grow quite as quickly, though the colour and interest throughout the seasons makes it an ideal alternative. It grows in all free draining soils in full sun or shade. Portugal Laurel hedging plants look similar to Bay Laurel but are much hardier so can withstand the coldest of winters (-20°C) without losing their leaves – so perfect for maintaining privacy all year-round. Portugal Laurel is easy to take care of and forms an excellent lush garden hedge that can be kept to any shape or size.

Western Red Cedar, is a conifer that looks similar to Green Leylandii, with its dark, olive-green foliage that turn a glowing bronze in winter. and grows almost as fast. The foliage has a pleasing, fruity fragrance when the leaves are crushed. It also grows almost as fast as Green Leylandii and it can be cut back into old wood and will re-shoot. Thuja is a fast-growing conifer that creates a timeless hedge, which grows in all soils, except those that are waterlogged during winter. Thuja plants are extremely hardy and will tolerate strong winds and temperatures down to -25°C, so another hedge that is perfect for maintaining that winter privacy. Varieties of Thuja (plicata and 'Brabant') tend to be bushier than Leylandii when you buy them in the pot or as a root-balled hedging plant, but they are slightly slower growing than Leylandii. Leylandii and Thuja both form a very similar, dense hedge, but Thuja will shoot back from old wood if overgrown. Thuja has aromatic, fruity foliage when brushed against and if trimmed once a year they will create a fantastic field or garden hedge.

Griselinia littoralis is a quick-growing, evergreen shrub with fresh apple-green leaves. It is an exceptional hedging plant that forms a neat and tidy hedge. Griselinia hedging plants are lush and grow up to 45cm (18 inches) per year making it an ideal hedging plant. Griselinia keeps its 'Granny-Smith' coloured apple-green leaves throughout the year and creates a dense hedge to ground level. The plants will tolerate temperatures as low as -13°C in sheltered sites away from cold winds, and will grow in any free-draining soil in full sun or partial shade. It can grow up to 5m (15ft) if left untrimmed but will make a neat hedge if maintained as low as 3-4ft high. The hedges are easy to maintain, and are ideal for coastal locations due to their tolerance of salt from the sea, or along roads where gritters spray salt during the winter.

As you can see, Evergreenhedging have a wide variety of hedges that will cater to you in a range of locations, soil conditions and the extent of privacy you desire.
For more information on any of the above hedges, please get in touch with us today – we'd be delighted to hear from you and answer any questions you may have!
---