When is the best time to cut or trim a Laurel hedge?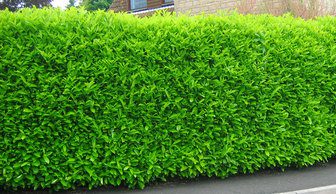 Late spring or early summer is the best time to trim most hedges including laurel and leylandii hedges.
You can prune a laurel hedge with secateurs – which is not as labour-intensive as it sounds – or with a hedgetrimmer. If you cut it with a hedgetrimmer in late spring or early summer, it will put on new growth that will quickly grow over any "tatty" leaves left by the hedgetrimmer. Don't worry if you can't prune the hedge until later in the summer but bear in mind that if you leave it until the autumn, it will not have much of a chance to re-grow and cover up any untidy leaves.
We only prune our laurel hedge once a year and it keeps it tidy and dense.
On a note of caution, watch out for nesting birds from May until July, as it is illegal to disturb them.
Don't prune your hedge if it is very hot and dry at the time.
---