Large Leylandii | New batches ready for sale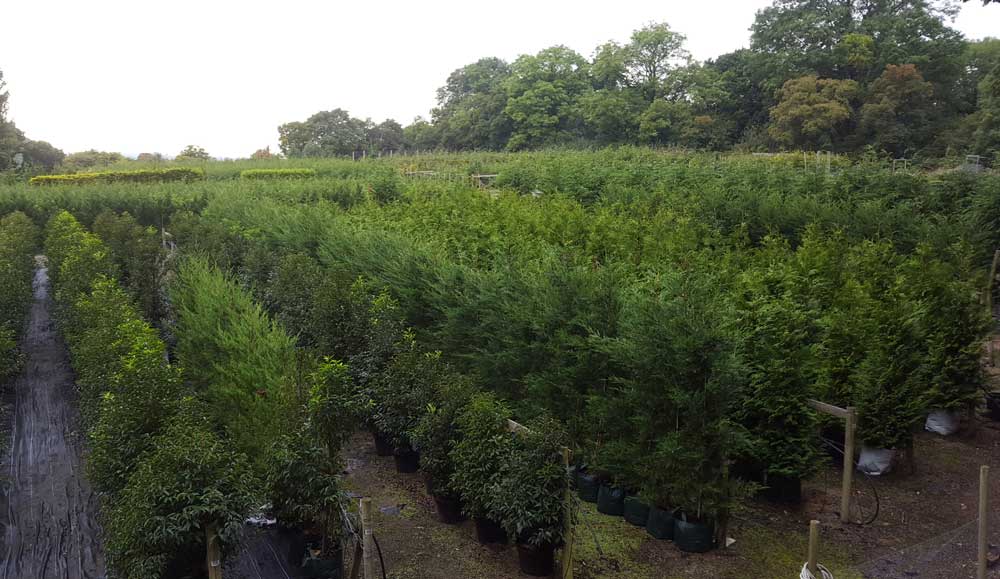 We have been growing on some larger Leylandii 9ft, 10ft, 11ft and 12ft tall (2.5-2.75m up to 3.5-3.75m) and they are now ready for sale.  Most of these are in 25 or 30 litre pots or, alternatively in 35 litre pot bags.
We have three different batches of mature Leylandii that are now ready, not all of which are currently on the website as it gets a bit confusing when we put different batches of the same size and type of hedging plants on at the same time.  Some are the traditional Green Leylandii but we also have some Green Leylandii 2001 available. Please give us a call on 01460 281265 to discuss your requirements.
These Leyland Cypress hedging plants are too big to send using our normal delivery service so we need to quote individually.  For this reason, you can't order them through the website.  The delivery charge depends on the number you require, your location (a postcode is the best) and how quickly you want them.  We can often do next day delivery if orders are placed before 11am, however, Express (next day) delivery is often slightly more than our standard 2-3 day delivery.  You can email your enquiry to [email protected] or give us a call on 01460 281265.  Alternatively, if you live near to us in Taunton, Somerset, we are open 7 days a week – but bring your wellies as the nursery is starting to get muddy again!
To view the Leylandii we have available on our website, please click here.
---